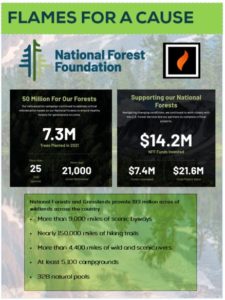 MF Fire is proud to announce a partnership with the National Forest Foundation (NFF). Together they will assist in the effort of planting native, ecologically appropriate trees across the country for just $1 per tree. MF Fire donates a portion of all sales to this important cause. We're making it easy for you to help too. All consumers, dealers, and distributors will have the option to plant as many trees as they would like for $1 per tree when ordering our wood stoves. Please help protect America's most spectacular renewable resource and keep our forests thriving for generations to come.
Wood is a renewable and sustainable resource, making the process of tree harvesting, wood burning, and reforestation a beneficial and environmentally friendly operation. In the realm of natural resources, wood (forests) is the one that is truly renewable and grows back.
"To ensure this renewable resource does in fact remain renewable, replanting trees and reforestation efforts are imperative for those who use firewood." said Ryan Fisher, MF Fire's COO. This is where the partnership between MF Fire and NFF comes into play as the two, along with other contributors, are working together to keep the forests plentiful and the wood-technology industries successful.
The NFF leads forest conservation efforts while also promoting responsible recreation. They believe that these lands, and all that they provide, are an American treasure and are also vital to the health of our communities.
These forests are the foundation of America's outdoor recreation, heritage, and sustain our way of life. They provide water to millions of Americans in thousands of communities, clean our air, store carbon, and provide timber, and other resources for industry and communities.
MF Fire is committed to helping keep our forests bountiful and ensuring a healthy life cycle for wood and those who rely on it to fulfill multiple needs.
Have any questions about our partnership with NFF? Email us at [email protected].