MF Fire Reached the Final Four in the ACC Clean Energy Challenge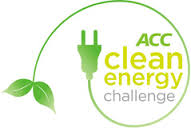 The ACC Clean Energy Challenge is a business plan competition. It encourages students from all universities throughout the southeastern United States to develop business plans for new clean energy companies focused on renewable energy, energy efficiency improvements and advanced fuels/vehicles. This program is supported by the Department of Energy's (DOE) Office of Energy Efficiency and Renewable Energy (EERE).
The competition is similar to the NCAA tournament bracket, in which 64 teams face off to advance to the championship. The finalist went on to compete in the DOE National Clean Energy Business Plan Finals in Washington, D.C. against winners from similar brackets in other regions of the country.
In the 2014 competition, MF Fire won two rounds and reached the Final Four with our modern wood heater. Our ultra-clean, efficient wood stove shared a bracket with teams like Charging Lane from Clemson University, who are developing a technology that can charge electric vehicles at stoplights. Or EnViv from Virginia Tech, who are developing a new hydropower technology to leverage low-flow waterways.
Efficiency is one of the largest drivers of our fire science team. Our modern wood heater is designed to be efficient in multiple ways – energy, effort, materials, etc. If you haven't already, check out the Catalyst to learn more.